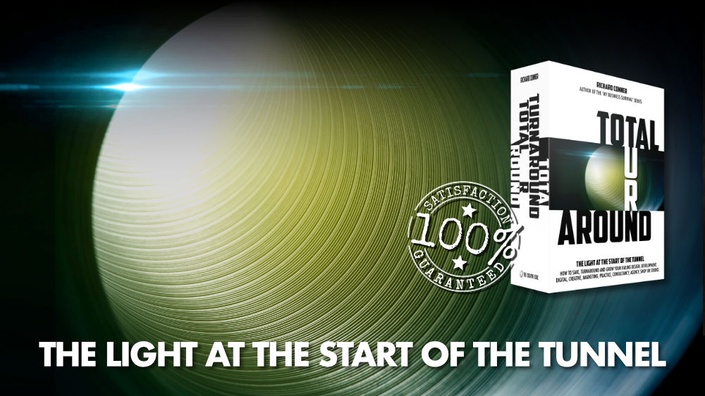 My Business Survival Total Turnaround Success Blueprint
Save, turnaround, and grow, your struggling failing professional service consultancy, design, marcomm, PR, digital or creative agency business.
Enroll in Course
EVERYTHING you need to save, turnaround, and grow your struggling, loss-making, insolvent, failing business to make it profitable and a joy to work with again.
Do you own or manage an underperforming professional service consultancy, an architects practice, a design or production studio, web development team, marketing communications, public relations PR, digital or creative agency?

Does your business match any or all of the criteria below?
If so, remember the investment you've made to date. Your business is worth fighting for. This course can help you quickly turn it around.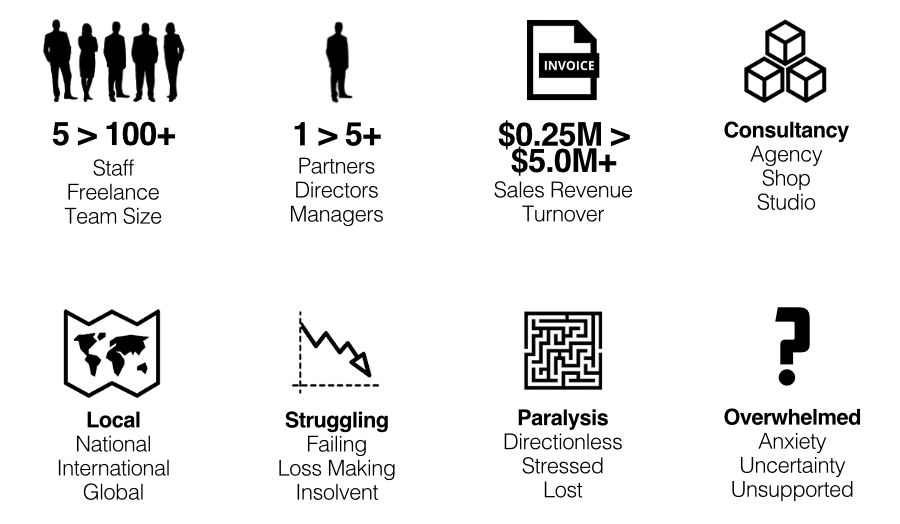 Stop haemorrhaging money due to economic conditions, poor sales and underfunded growth.
If you're business is struggling or worse failing, know exactly What to do, How and When to turn it around for good. Learn how to save, turnaround, and grow your business to restore positive cash flow no matter what state it's currently in.
Learn how you can quickly and easily rebuild and restructure your business without going bankrupt.
If you've ever wanted to ensure sustainable growth in your company without constantly struggling with the effects of a recession, downturn or unexpected change and you own or manage a small to medium (SME) sized consultancy or professional service business then read on.
I am going to show you how to dial in to your company in a way that will help you Reduce Debt, Manage Insolvency, Improve Cash Flow, Secure Financing, Develop Sustainable Growth, and Achieve Success despite the Economic Conditions, Recession or no recession.
You'll be more prepared to generate growth in your company without having to deal with hiring expensive consultants and spending precious cash flow on outside help, or worse still having to face downsizing and laying off your A-Team, your most valuable and hard-won employees, to make ends meet until the next payroll crisis hits your firm.

But before I do that, let me tell you a little about how I was able to finally overcome the financial challenges brought about by unexpected change, rapid growth, recession and economic downturn.
'Over the last 25 years I've been involved with the founding and running of over 5 international businesses operating in traditional and online markets. Establishing offices in 5 geographic regions including North America, the Middle East, and Europe along with running a team of up to 100 staff without any formal business training has been a challenge and not without its fair share of problems.' Richard Conner
I read somewhere once that apparently a born entrepreneur can make anything profitable. While that may be true I believe any type of entrepreneur, natural or nurtured, is equally capable of making anything unprofitable! This tendency is compounded exponentially when focusing on your goals, passions and the direction of your business take second place to continual day-to-day problem solving and relentless fire-fighting.
Over the years I have started businesses that generated healthy profits in a very short amount of time that developed quickly and grew organically into larger successful BUT seriously under-funded businesses. The very success that you are working towards (and in some cases achieving!) often becomes the cause of your frustrations as you strive to overcome persistent problems to develop and grow your business.
Before you know it and before you have a chance to be proactive, like a mad dog you are chasing your tail. The freedom, responsibility and control you would do anything to attain and maintain has become a huge weight on your shoulders that becomes harder and harder to shrug off.
The deeper your involvement and the more committed and loyal you are to your business and your team the more you realise you have unwittingly traded your regular pay check for a new boss; the bank, your investors, your creditors, your suppliers, your staff, your clients and your customers.
Your time and energy is hijacked by everything other than what you wanted to do and what your business is all about. In short you feel lost, trapped, unheard, and worst of all, unsupported.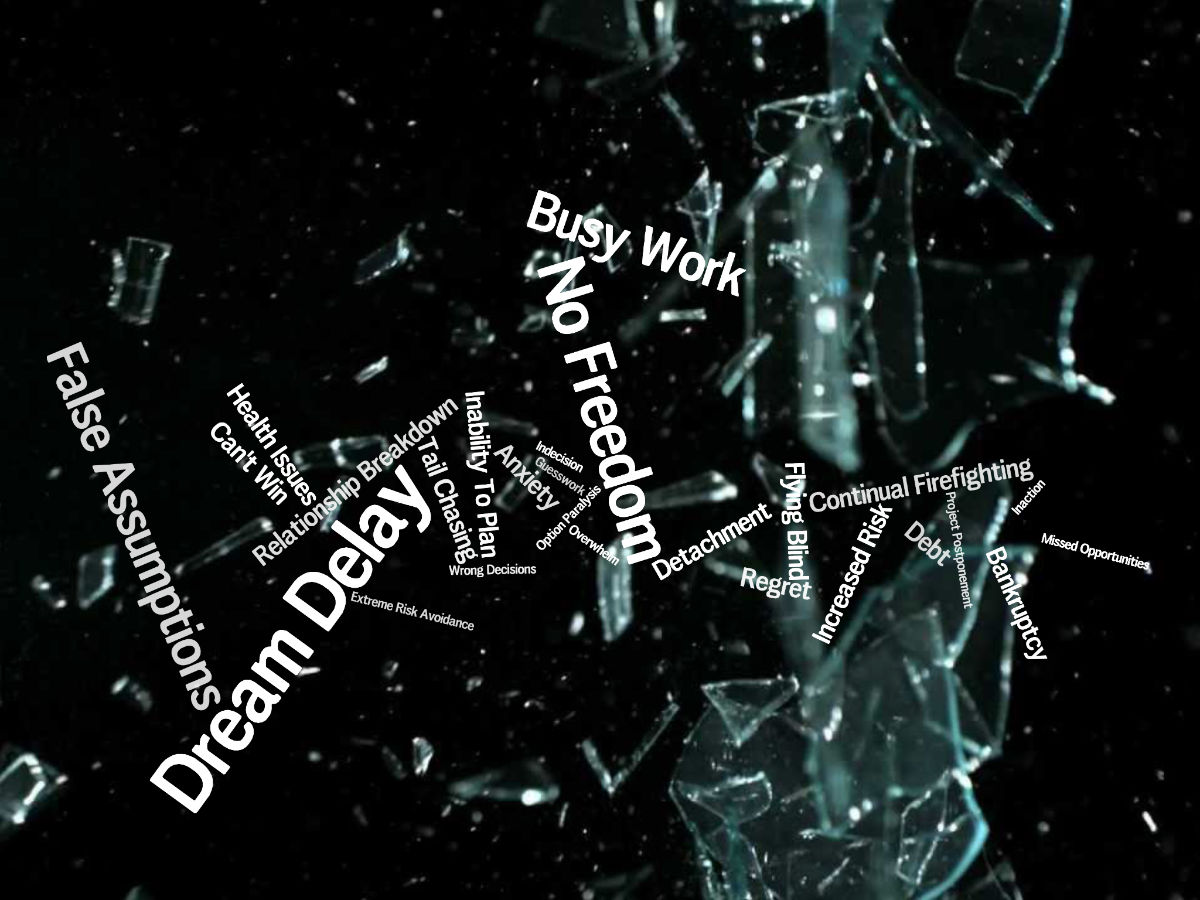 After nearly losing my first business because of these kinds of problems. I had to find a way to start again with a fresh perspective and approach.
To overcome these major issues I had to re-learn and adjust my management strategies at the same time as reduce mine and my businesses reliance on debt during my journey to stable, sustainable and profitable cash flow positive growth.
With severely restricted cash flow at times it seemed like there was no light at the end of the tunnel. But, I knew from experience that hard work eventually pays off. It took time but with help and support I was gradually able to bring my business finances under control and return to profit. During this process I learned some of the most valuable lessons about business.
I know first-hand that these are not the lessons you will learn in school, college or university while studying finance, business and management. These are the hard learned lessons of life and business that you only learn by experiencing them for yourself and coming out the other side stronger and street wiser.
I forgot Einstein's definition of insanity, i.e. doing the same thing over and over again and expecting different results.
While I restructured my businesses I decided it was time to pay detailed attention to what exactly I was doing, when and why. You see after 15+ years in business you start to take your knowledge and experience for granted. Operating on gut instinct, chancing it on nothing more than a wing and prayer I forgot Einstein's timeless words of wisdom. This time I wanted to record what I was doing and fully understand why something was working and why something wasn't to create a reliable blueprint and framework to turn a business around successfully.
To get through these difficult times my business partners and I pulled out all the stops to turnaround our businesses. Even with nearly 50 years experience between us, a large network of friends, colleagues, suppliers, advisors and clients it was a struggle to find out and understand what we needed to do to keep our businesses working and stop them struggling again in the future.
It seemed that nobody really knew what to do and when to avoid the inevitable business collapse that we were facing down. The professionals were busy looking after their own interests focussing on the fees they could weed out of the process, which just made it much harder to transition through a turnaround with anything like a soft landing.
However, after a lot of research and trial and error live in the field, I finally got to grips with the complex and seemingly never-ending process and began to boil it down into simple, straightforward and manageable tasks that me or my team could implement without breaking a sweat or becoming overwhelmed and stressed.
It wasn't long before the changes we did action quickly started to make a positive affect. We had more time, energy and resources to really start to focus on building the business and taking on new, exciting projects as oppose to always working endlessly to avoid failure and cauterise the wounds to stop the cash flow bleed we were living and dying by day in and day out.

We had more time to breathe and think. At last we were able to come up for air.
Why not share the knowledge of how to turnaround your business and end financial struggles and make it available to those that need it most?
Throughout the process I recorded everything I was doing, combined it with what I just know from experience works in business and pulled everything together into a clear complete and structured program to turnaround your business. I didn't want to waste the experience and knowledge but capture and organise the vast array of information, tools, tips and techniques for surviving a recession, managing insolvency, and building a strong sustainable business.
I wanted my current and future partners, directors, management team and staff to benefit directly. This way, with everyone onboard, including our investors, we would be able to further strengthen, grow, and expand our businesses.
After a series of drawn out personal and business insolvency processes and forcing myself to regularly and consistently make the time to document everything I developed this comprehensive program. It puts the tools for surviving a recession, market changes, growing pains and unexpected change into a single, simple, step-by-step how to solution that will make stabilising your company and getting out of debt much simpler than it ever was for my me and my partners. You'll receive all of this experience and more when you invest in My Business Survival™ Total Turnaround.
My Business Survival™ Total Turnaround will show you how to survive financial struggles and overcome the threat of having to close your business without having to go further into debilitating debt and stay in cash flow crisis.
We all experience the very same problems and difficulties from time to time and will likely continue to do so over the next few years whether we are new to business or have been struggling, and too often failing, to turnaround our existing enterprises.
Knowing where you can turn for advice and support that can really help you through the day-to-day running and overarching sustainable growth strategy of your business is essential. That's why I've developed this fast-access, holistic business course that not only deals with the current issues we are all facing but also includes a plan to help you avoid future problems to create a renewed business that delivers the rewards and freedom that you set out to achieve when you first set out on this, your entrepreneurial right of passage.
This isn't based on reading lots of books and re-presenting the same old business advice. It's drawn from real life experience of turning around my own businesses and the challenges I've faced over my career and especially the last few difficult lean years.
You'll get a 96 Lesson, 12 Module Business Turnaround Success Course including module summaries, action checklists, and cheatsheets all instantly available. You don't have to rush to business school and pay high fees for information that is not useful to your immediate need or hire expensive consultants that will charge you an arm and a leg to tell you what you already know.
Applicable strategies, advice and support to help you get your business on the right track are available now. This extensive blueprint documents and systemises how you can, starting now, carry out a successful business turnaround and prevent one from being needed again in the future.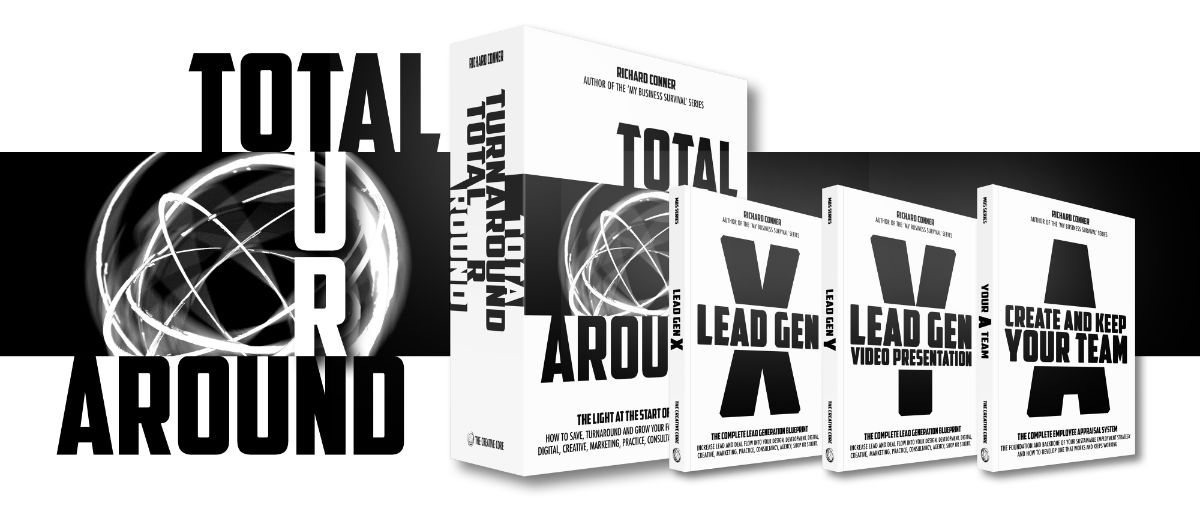 What's inside?

The Total Turnaround course is all about how to successfully restructure your struggling, failing, loss-making and most likely insolvent business as quickly, effectively, and painlessly as possible.
It contains 96 focussed audio with transcript lessons, summaries, and checklists spread across 12 modules and the 4 essential phases of a successful business restructure.

To support these business critical restructure phases the course includes 4 Exclusive Fully 'Road Tested' Bonuses.




'Lead Gen Y' Social Positioning Video Presentation, Slide Deck and Whitepaper
'Lead Gen X' Lead Generation + Business Development Strategy and System Blueprint
'Create + Keep Your A Team' Employee Development Strategy System and Employee Appraisal Kit
'Business Experience + Advice On Demand' 30 Days Unlimited Fair-Use Email Q+A Support
(unlimited email support is reserved for those that opt to pay in full today vs by instalment)

The GO FASTER course framework

Total Turnaround will help you avoid business disasters, save money, increase profitability, and restructure and grow a sustainable and rewarding business that adds value to you, your family, your life, and your team and community of clients and customers.
With it you will see and feel the light at the start of the tunnel!
Although the contents of this blueprint are still new and fresh in my mind (because I live the principles and strategies on a day-to-day basis) I make sure that they are regularly updated to address the new changing economy.
In fact I often return to Total Turnaround, dipping in and out, jumping around from lesson to lesson to ensure that I'm following best practice and keeping my mind open when starting up new projects, ventures and businesses. This is especially true if I sense that a project or venture is starting to go off the rails!
Total Turnaround is organised around my simple GO FASTER sustainable business development and growth principles that are outlined in my eBook 'The Go Faster Principle - Better Business The Fast Way' (included with the course).
GO FASTER is an acronym for Globalisation, Observation, Fortification, Acceleration, Synchronisation, Transmutation, Elevation and Rejuvenation.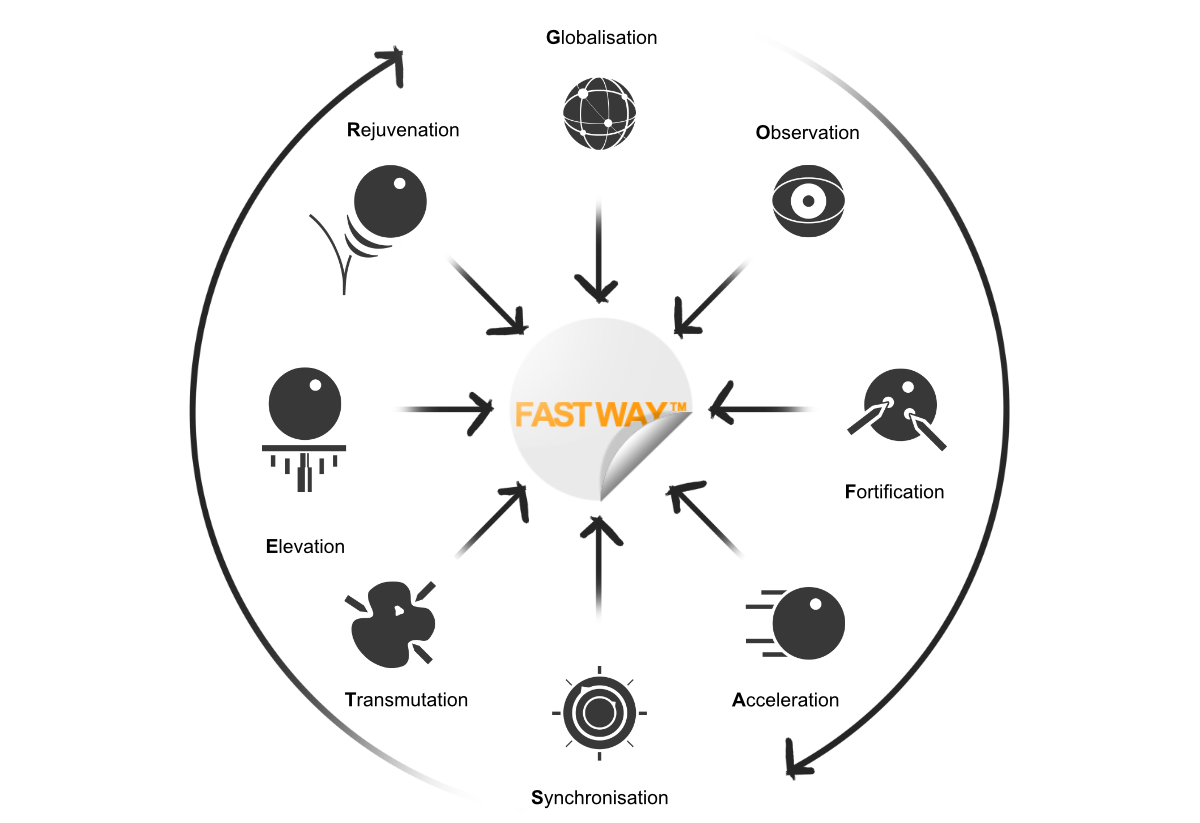 The 'emergency' and business 'life-saving' nature of this Better Business Blueprint focuses heavily and solely on the FAST aspects of GO FASTER. This ensures that the strategies and techniques are timely, practical and most importantly capable of helping you and your business right now when it needs it most urgently.
In short, the sooner and more holistically you address, design and put into action your business turnaround the more sustainable and robust it will be. This means you can lead it out of trouble and where you want it to go faster than you thought possible.
I've made sure there's theory, big picture strategy thinking, and day-to-day fully explained detailed actions all combined into a holistic business turnaround blueprint that will put you in total control when it comes to restructuring, saving, and growing your business.
Using it now will put you well on your way to your Total Turnaround.
There are 96 lessons in this course. You'll be asked to invest the price of a large latte for each one. Your daily fill of caffeine may last only a few hours whereas each lesson contained in this course will be useful and bring value to you and your business for a lifetime. No one can take away what you learn, especially when you act on it, and make it part of your process.
Understanding and using just one or two of these valuable lessons will save you time, effort, money and frustration on your business turnaround journey. This value alone will far outweigh the cost of your initial investment in a very short period of time.
If you've a hunger for information, strategies, techniques and tools to start building or rebuilding a better business and that hunger drives you to implement and take action quickly then you'll soon see real benefits in your business. These improvements will be hard to measure in just monetary terms alone. You'll have more time, energy, and money to focus on what matters to you most.


The course content breaks down as follows:


Phase 01 | Fortification / Facing Restructuring



Module 01 / Planning

01 / Aspirations and Expectations
02 / Your Investment and Your Exit
03 / Freedom Calculator
04 / Target Buyers and Investors
05 / Target Company Sale Value
06 / Target Turnover and Profit
07 / Company Valuation Methods
08 / Your Business Plan




Module 02 / Reporting

09 / Signs of Trouble
10 / Business Areas to Report Upon
11 / Advice on Reports
12 / Key Performance Indicators
13 / Necessary Measurements
14 / Taking Responsibility
15 / Management Accounts
16 / The Wheel of Continuous Improvement



Module 03 / Simplification

17 / Pricing Issues
18 / Overhead Reduction
19 / Rent Issues
20 / Lowering Staff Costs
21 / Maintaining Cash Flow
22 / Charges, Fees and Other Expenses
23 / Restructuring Options
24 / Program and Costs

Phase 02 | Acceleration / Before Restructuring




Module 04 / Team

25 / Accounting Professionals
26 / Your Management Team
27 / The Insolvency Practitioner
28 / You and Your Legal Professionals
29 / The Business Surveyor
30 / Dealing With Banks
31 / Sales Financing Companies
32 / Even Your Competitors are On Your Team




Module 05 / Finance
33 / Maintaining Cash Flow
34 / Issuing Invoices
35 / Chasing Invoices
36 / Credit Cards and Expenses
37 / Dealing with Suppliers
38 / Handling Creditors
39 / Personal Guarantees
40 / Director Loans



Module 06 / Legal

41 / The Insolvency Practitioner Process
42 / Purchase Agreements
43 / TUPE (Protection of Employment)
44 / S216 (Re-use of Your Company Name)
45 / Rent and Landlords
46 / Leases and Licenses
47 / Liquidity and Insolvency
48 / Continuity Planning

Phase 03 | Synchronisation / During Restructuring




Module 07 / Staff

49 / Leadership and Motivation
50 / A and B Type Employees
51 / C and D Type Employees
52 / Employee Concerns
53 / Employee Tolerance for Problems
54 / Dealing with Rumours
55 / Communication
56 / TUPE in Practice



Module 08 / Creditors

57 / Business Continuity
58 / Statutory Creditors
59 / You as Creditor
60 / Problem Creditors
61 / Responsibility and Understanding
62 / Repayment – Preferred Creditors
63 / Repayment – Other Considerations
64 / Software Licenses and Copyright Issues


Module 09 / Clients

65 / Clients and Their Effect on Continuity
66 / Copyright Issues
67 / Ownership and Outstanding Invoices
68 / Rumour Control
69 / Building and Maintaining Trust
70 / Client Loyalty
71 / Make Your Deliverables
72 / Quality and Price

Phase 04 | Transmutation / After Restructuring


Module 10 / Marketing

73 / Seize the PR Opportunity
74 / Redefining Your Business
75 / Marketing Material Preparation
76 / Business Intelligence
77 / Your Communications
78 / Continuity – Encourage Repeat Business
79 / Dealing with the Press
80 / Your PR and Marketing Campaign




Module 11 / New Business

81 / Personality Types in Sales
82 / Giving Value before Offering Value
83 / The Importance of Networking
84 / Making the Pitch
85 / Effective Negotiation
86 / Authority and Expertise
87 / Tendering
88 / After Sales - Customer Experience




Module 12 / International Expansion

89 / Appointments and Insurance
90 / Aspirations and Expectations
91 / Collaboration and Communication
92 / Rules and Regulations
93 / The Benefit of Competitions
94 / Attending Conferences
95 / New Markets Through Collaboration
96 / Do's and Don'ts of International Business

The Wheel of Continuous Improvement

The Wheel is the system for bringing it all together so you can see how all the aspects of your business interrelate and connect to produce a holistic system that should undergo a process of Continuous And Never-Ending Improvement (CANI). Each sector of the wheel is as important as the next, and each should be nurtured and developed to ensure the whole business can operate as smoothly, efficiently, and effectively as possible.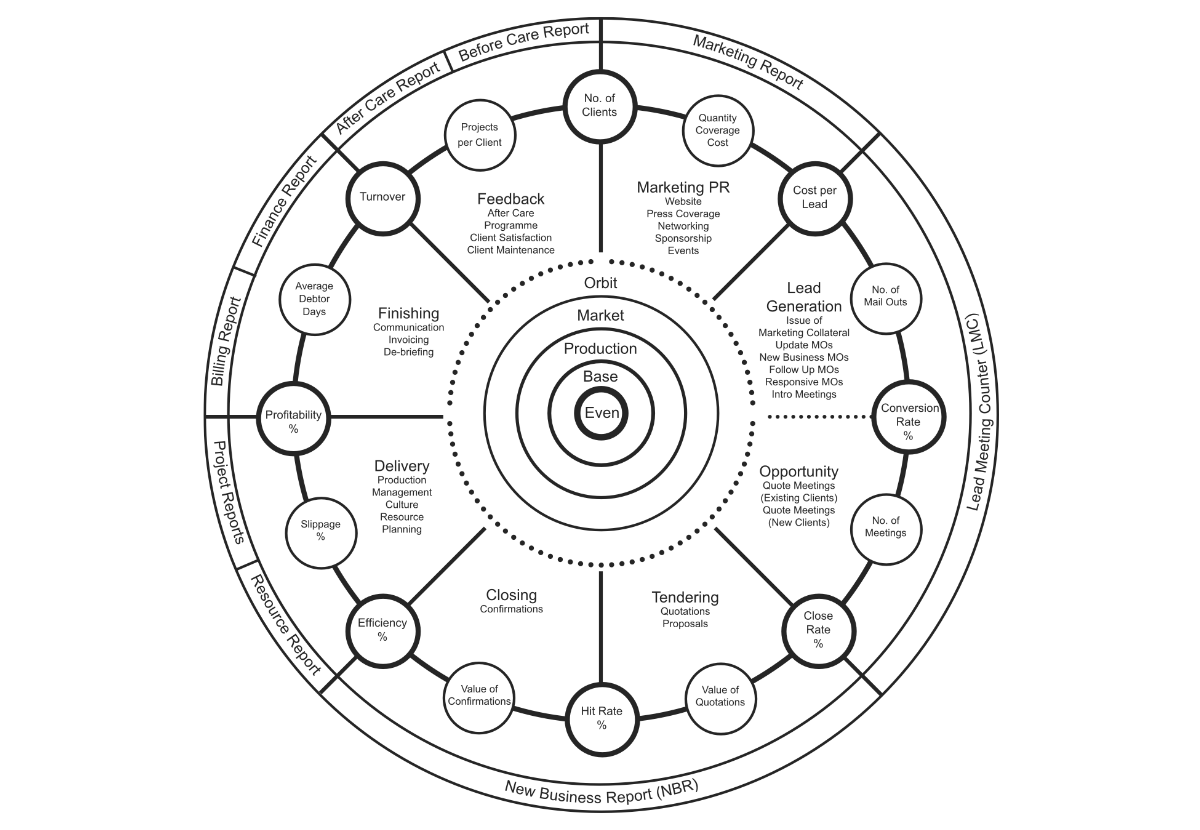 If one or more sectors of your wheel or business areas are experiencing problems, especially if they have been neglected, then you, your business, and your team are in for a bumpy ride. Use the action success checklists in Total Turnaround to uncover your major problem areas and ensure that someone responsible is working on them and making wholesale changes as well as incremental improvements in an organised and disciplined manner so that all aspects of the Wheel (aka your business) are continually improving.
Four Exclusive Bonuses
Having run my own businesses for many years, like you I know how much it costs in time, money, and energy to develop these bonus strategies, systems and techniques to improve your business. Consequently I know how valuable they are too once they're done. It's practically impossible to find an off-the-shelf solution to these recurring problems. That's why I made sure I documented and systemised them all specifically for use in creative and professional service consultancies and businesses. Because they don't exist in this easily accessible and affordable format anywhere else.

Bonus 1 ($1,000 Value)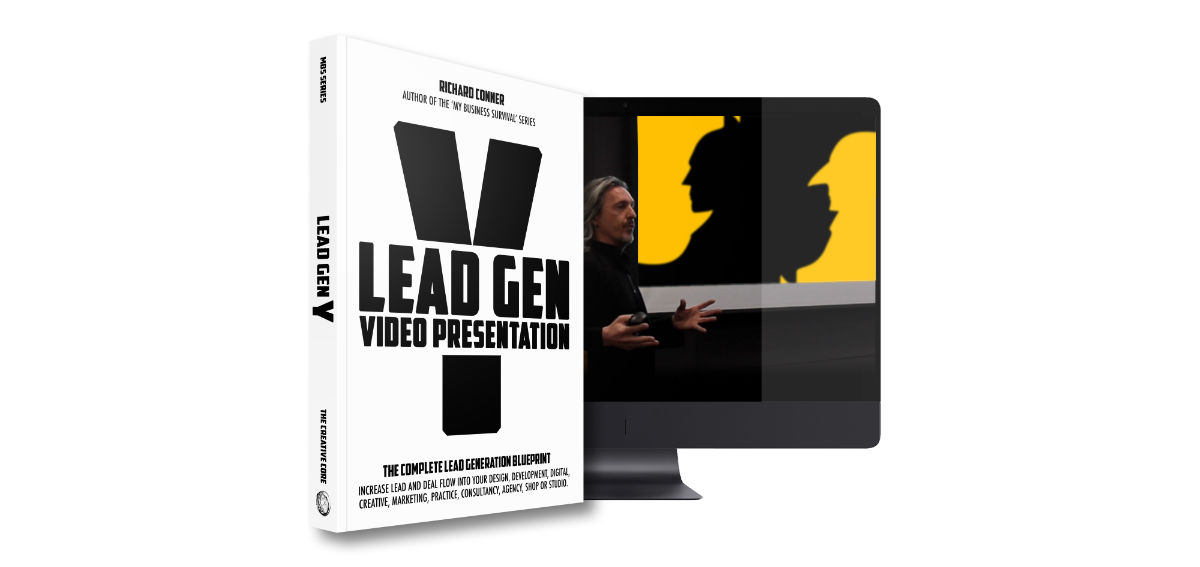 'Lead Gen Y' Social Positioning Video Presentation, Slide Deck and Whitepaper to take your business and your clients through a coordinated and connected stream of relevant communication and storytelling. Lead them from an online social interaction to an exploratory meeting and uncover what they really need. Position you, your team, and your business as the go-to solution to their problems. If you're in marketing you can use your own version of this directly in your client pitches to win work.

Bonus 2 ($1,000 Value)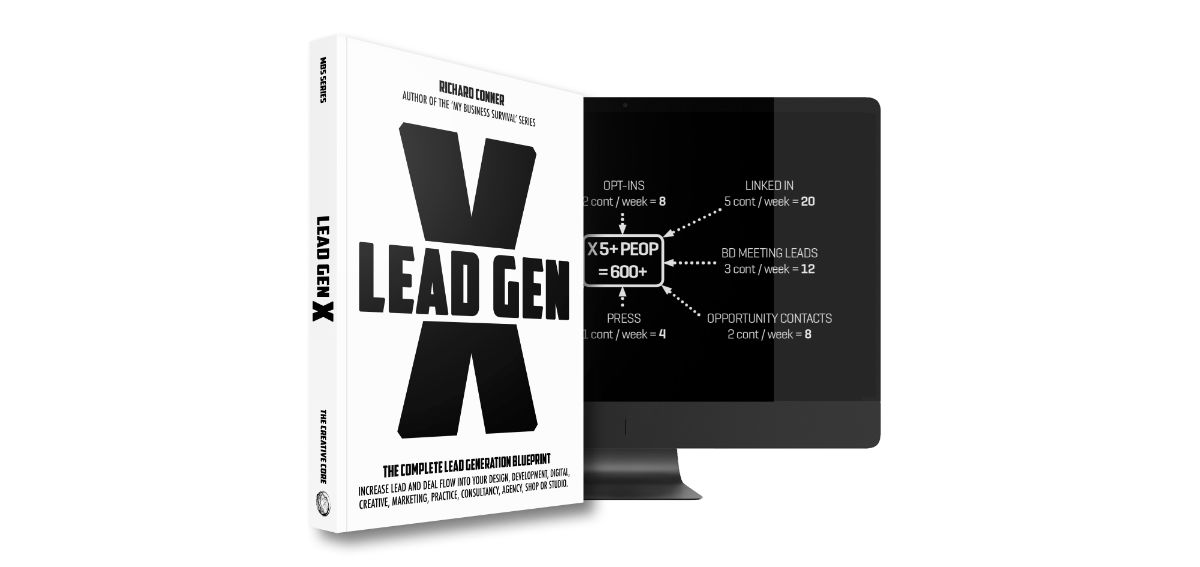 'Lead Gen X' Lead Generation + Business Development Strategy and System Blueprint that you can crib and apply directly to your own business. The compounding effect this system has on your opportunity and sales pipeline is astounding. Take just one aspect and apply it today and you'll start to see immediate results. Use the presentation to educate and train your team to increase conversions and sales.

Bonus 3 ($3,000 Value)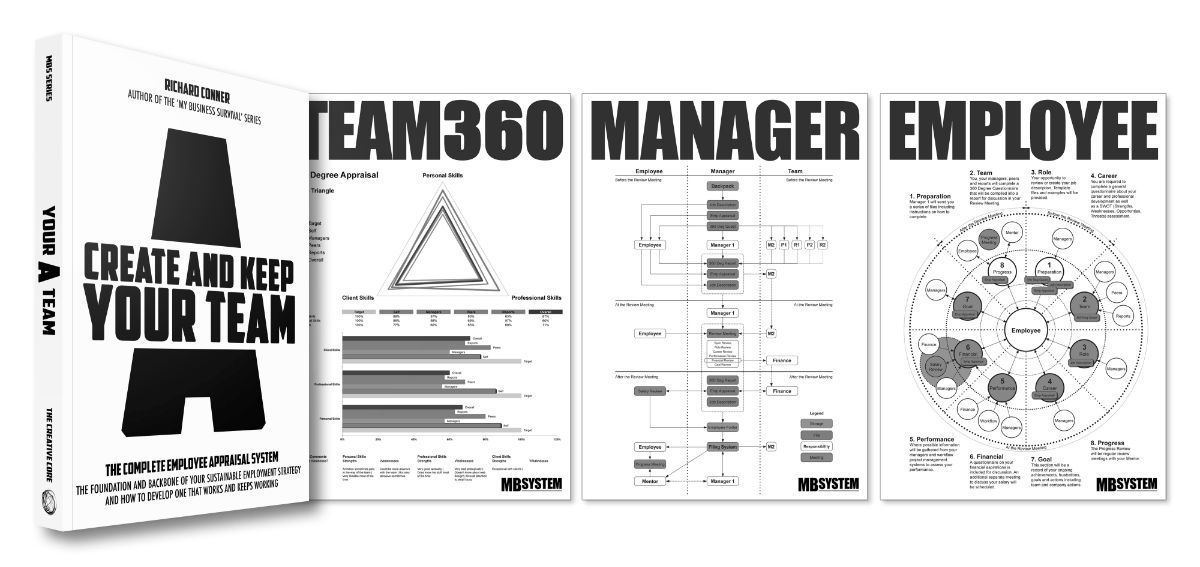 'Create + Keep Your A Team' Employee Development Strategy System and Employee Appraisal Kit that you can use right out of the box or use piecemeal with your existing system. Your team is your most valuable asset, don't risk the investment you've already made. This system ensures they stay that way and don't stray or wander off when you need them most.


Bonus 4 ($1,000+ Value)
(Reserved for 'Pay In Full' TODAY customers)



'Business Experience + Advice On Demand' 1 Hour Support Call Time
PLUS Unlimited Email Support
30 Days Unlimited Fair-Use Email Q+A Support with Richard Conner to help you as you work through the course material and implement your business turnaround.

Entrepreneur CEO, Managing, Creative, Finance and Operations Director, Richard Conner, has 25 years experience starting, building, growing, and turning around an award-winning group of small creative businesses from zero turnover to $5M+ in sales revenue. He knows exactly what to do and when to smoothly turnaround your struggling business.

Many students enrol just to take advantage of this bonus alone.
(1 Hour Support Call Time is reserved for those that opt to pay-in-full today vs by instalment)
After you use My Business Survival™ Total Turnaround you'll be in a position to turn any past, present, or future business venture into a successful, healthy, and stable profit-generating company that serves you instead of hindering you and holding you back.
This course isn't just about addressing the immediate and long-term needs of established businesses that are struggling or want to make bigger steps towards success, it is also very relevant for startup businesses that want to quickly absorb and understand how real businesses work and what to do if things don't go according to plan.
It doesn't just look at the operational factors of business it digs deeply into the effect it has on the mindset of the business owners and employees and how you can turn this to your advantage.
Which of these powerful tools could you use to begin generating greater profits in your business today?
Use the insightful and timely questions to discover where you and your team really are now and how to build a strong 'bullet-proof' future for your business.
Pick up and implement key holistic strategies, tactics and tools to accelerate the sustainable growth of your team and business.
Know how, when and what to communicate to your team, consultants and advisors to get the results you need, when you need them.
Learn how to reduce debt rapidly and deal with suppliers and creditors in a way that puts, and keeps, you in control of your businesses.
Develop a new business sales and marketing strategy that will expand your company and position your brand for national and international recognition.
How to set realistic, achievable, challenging and effective personal and group goals that will take you and your team further than you thought possible.
Keys to developing a team of responsible employees who can take your vision and run with it without demanding too much of your time, effort, and attention.
Discover how to develop a solid business plan from start to finish and an evolving business map that will have investors calling you back.
And a whole lot more!

What's the cost for learning how to turnaround your business, knowing how to reverse the effects of continual financial struggle, and avoid looming business failure?
There are many people who spend tens of thousands of dollars trying to save a sinking ship or even just to get a new business off the ground. Not to mention the countless hours of time wasted banging your head against a brick wall while trying to research potential solutions and navigate your way through your day to day problems.
You can buy other products and services that range anywhere between $5,000 and $25,000 or more but end up frustrated in the end. Believe me, I've been there and done that. But I'm not going to charge you anywhere near that amount for the My Business Survival™ Total Turnaround Program.
You can get everything you need to help you get your business back on track and restructure, rebuild, and eliminate debt for a low price because I'm able to make the extensive hard-won content available profitably for a considerably lower price point to a greater number of entrepreneurs through the Teachable platform.
I know you're reading this because profit is low or non-existent and cash flow is crippling you. Packaging my knowledge and experience into an affordable program is my way of giving back and helping you solve these problems while still generating a profit for my business.
The price I'm charging and the investment in your business you'll be asked to make is a drop in the ocean compared to the money you're likely to waste on ineffective business courses or high-priced consultants. These generic solutions only look at the symptoms and not the core problem.
Add to this all the extra time you are distracted from your core business and the stress you are under trying to come up with a workable solution. You get the point.
So what's the catch? Why am I practically giving this resource away? Well it's really quite simple. I want to give everyone, including you, the ability to quickly overcome your obstacles to growth and profits in your area of expertise. I wouldn't have been able to restructure and rebuild my businesses without the knowledge and experience it contains.
I want to hear about your problems and help you solve them, that's what I do. I enjoy it so much I'm offering students who enrol 30 days unlimited fair-use email support. By working this way I can continue developing more focussed, helpful and valuable products and services for my clients. And when you're successful at turning your business around, like I know you can be, I want you to keep working with me to grow your business.
But I know you're skeptical about rebuilding your business in as short amount of time possible.
That's ok I've been there! Before undergoing countless hours of searching, researching and struggling I felt the same way. I couldn't find an easily accessible, simple, comprehensive, workable solution to my business problems either. That's why I'm offering the following.



100% Risk Free 30 Day Guarantee
The MBS™ Money Back Guarantee promises that if you work through the course and implement your turnaround plan and actions and don't see positive change and growth in your team and business within 30 days of making your purchase then we'll issue a prompt and courteous refund. No questions asked and no hassle.
That means you can try out My Business Survival™ products and services at our risk. We want you to find out for yourself if our products work for you or not. And if they don't help we honestly want you to ask for your money back.
I wish I had My Business Survival™ Total Turnaround and these exclusive bonuses and on-demand support when I was facing the challenge of saving my first business. It would have saved me weeks, if not months of frustrating trial and error and a whole lot of headache and heartache.
You really can't afford NOT to invest In My Business Survival™ Total Turnaround.

Right now, you have two choices:

You can either continue struggling and searching for answers and eventually wind up closing the doors on your dream. Or, you can take action today, right now, by investing in the My Business Survival™ Total Turnaround Program. And begin taking the steps toward getting your business back on track, renewing your hope, and building on your successes once again.
This choice is yours. Imagine waking up with excitement and anticipation for what the day will bring, overtaking the competition, and becoming the top contender in your market. What about having enough time and money to finally take that vacation you so desperately need?
Once your business is back on solid ground, all of this and more will be possible. You can start turning your company around straight away when you take action, order and enrol in the My Business Survival™ Turnaround Program.
Before you choose either way here's a summary of what you'll have immediate access to in exchange for your low investment high return decision today:
Your Instructor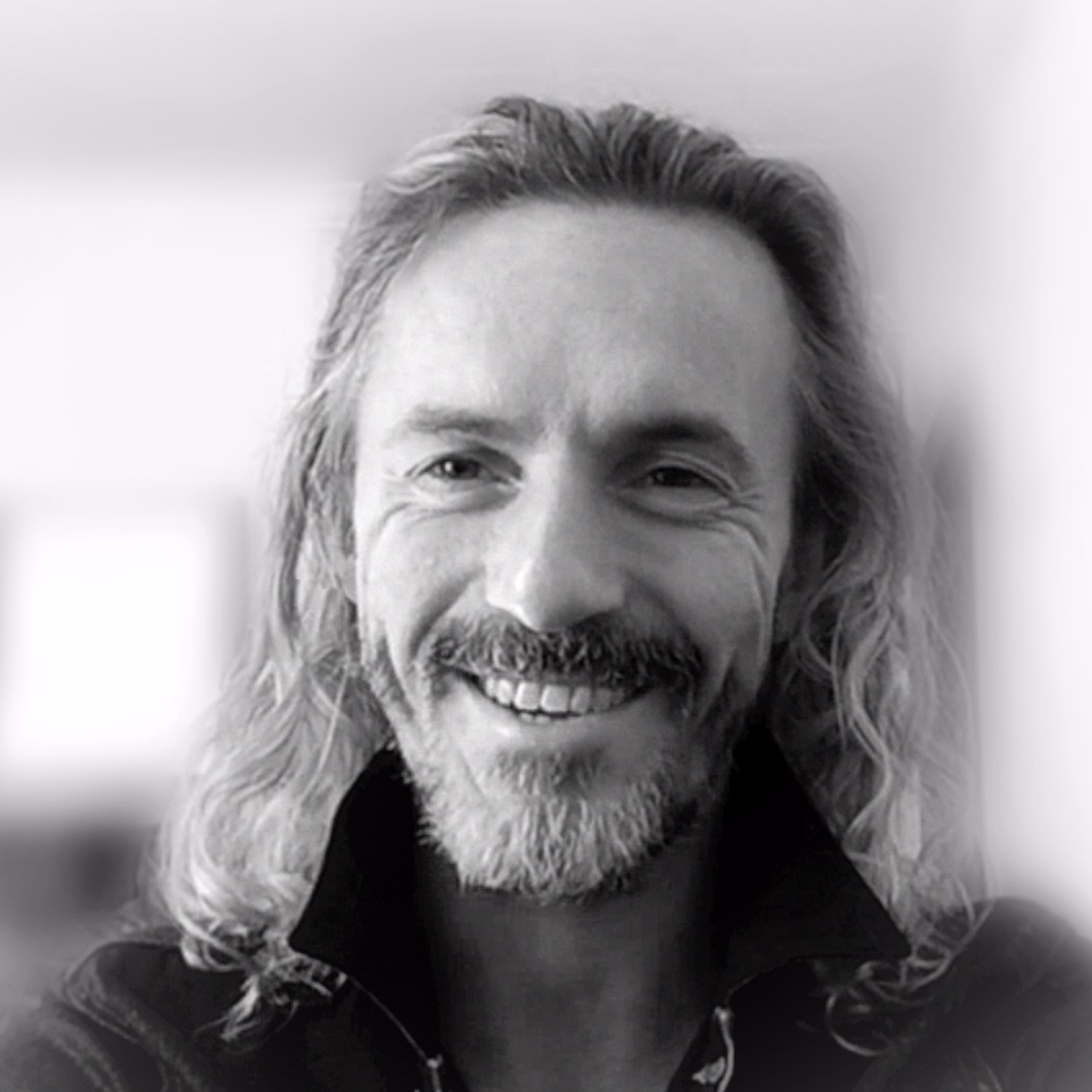 Richard co-founded Piercy Conner Architects (now Piercy&Company), graphic design and CG illustration and animation studio Smoothe, Design Week Top 100 creative agency Assembly Studios, and The Creative Assembly.

With his partners he co-created the Microflat, the worldwide press and media phenomenon. Showcased with two live-in Micronauts at Selfridges in Oxford Street, London the Microflat was heralded as the answer to London's escalating housing crisis.
He has 25 years experience starting, building, growing, saving, turning around, and exiting an award-winning group of small creative businesses from zero to $5M in annual sales.

During his extensive business career Richard has acted as CEO, Managing, Creative, Operations and Finance Director to his team of over 100 people working from studios in London, Manchester, Sofia, Dubai, Abu Dhabi and Bangkok.
Richard studied Architecture (First Class) at Liverpool University and The Bartlett University College London (UCL). His professional career started with Nicholas Grimshaw and Partners (now GRIMSHAW).
Now, he writes about Unlocking Time, Money, Creativity, and Purpose within the High Definition Life. He also works closely with entrepreneurs and their businesses through The Creative Core, his life, work, and business systems, training, and coaching consultancy.
All material is created from firsthand experience by a multi-award winning serial entrepreneur with 25+ years experience in the creative services and professional consultancy business industry.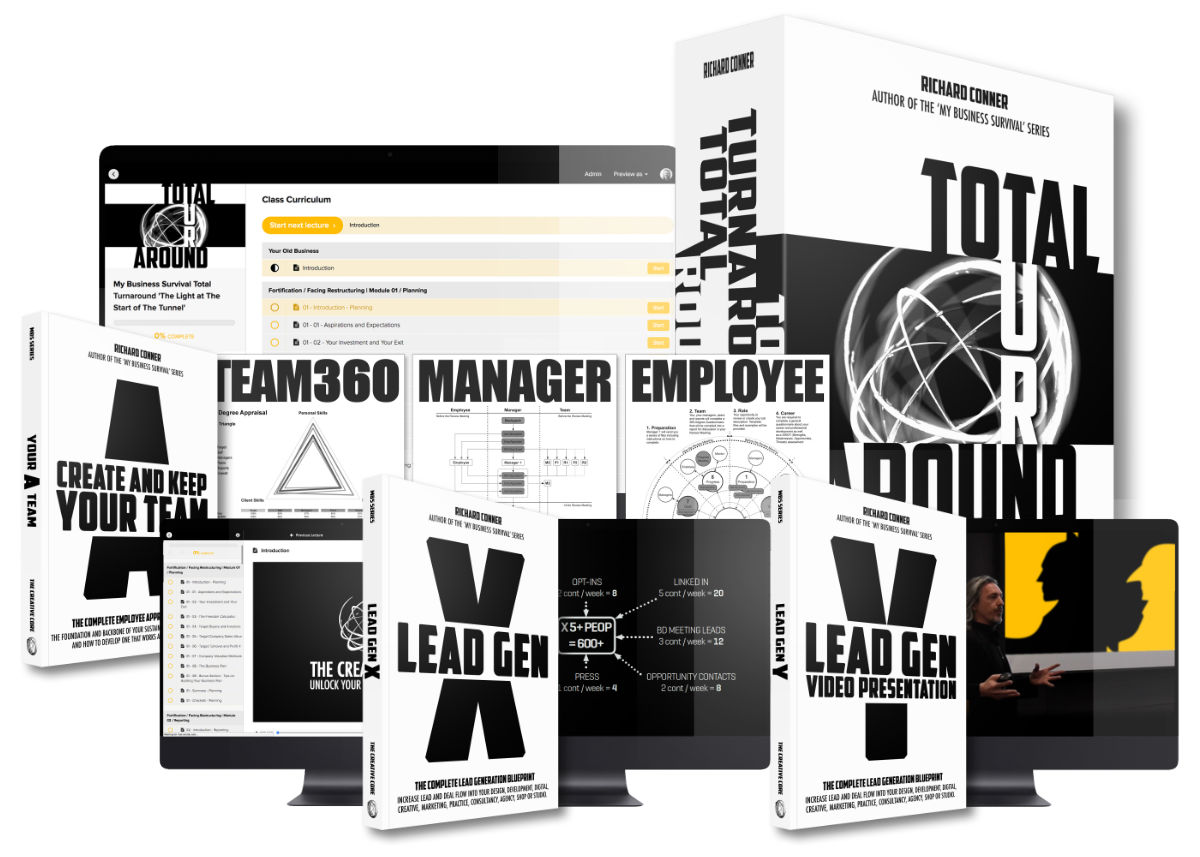 'Total Turnaround' Fully Comprehensive 12 Module 96 Lesson Business Turnaround Course
($9,600 value)
'Create + Keep Your A Team' Employee Development Strategy + System and Employee Appraisal Kit
($3,000 value)

'Lead Gen X' Lead Generation + Business Development Strategy + System Blueprint
($1,000 value)

'Lead Gen Y' Social Positioning Video Presentation + Slide Deck + Whitepaper
($1,000 value)
30 days unlimited fair-use email Course + Business Turnaround Q+A support with Richard Conner
(unlimited email support is reserved for those that opt to pay in full today vs by instalment)
($1000+ value)
30 Day 100% Money Back No-Quibble Guarantee
(comfort value at our risk)

Total Investment Value = $15,600+
(see current pricing at the foot of the page)

So enrol today, right now, while it's still in the forefront of your mind and be prepared to experience turnaround, growth and stability in your business like never before.
Thank you for your reading. See you at the end of the tunnel!
Richard Conner
Founder and CEO @ The Creative Core
P.S. If you have a promotional discount coupon code please enter it during checkout.
Frequently Asked Questions
When does the course start and finish?
The course starts now and never ends! It is a completely self-paced online course - you decide when you start and when you finish.
How long do I have access to the course?
How does lifetime access sound? After enrolling, you have unlimited access to this course for as long as you like - across any and all devices you own.
What if I am unhappy with the course?
We would never want you to be unhappy! If you are unsatisfied with your purchase, contact us in the first 30 days and we will give you a full refund.
Does the price of the course include any support?
Yes, you'll have access to fair use email support from Richard Conner for up to 30 days.