EVERYTHING you need to save, turnaround, and grow your struggling, loss-making, insolvent, failing business to make it profitable and a joy to work with again.
Do you own or manage an underperforming professional service consultancy, an architects practice, a design or production studio, web development team, marketing communications, public relations PR, digital or creative agency?

Does your business match any or all of the criteria below?
If so, remember the investment you've made to date. Your business is worth fighting for. This course can help you quickly turn it around.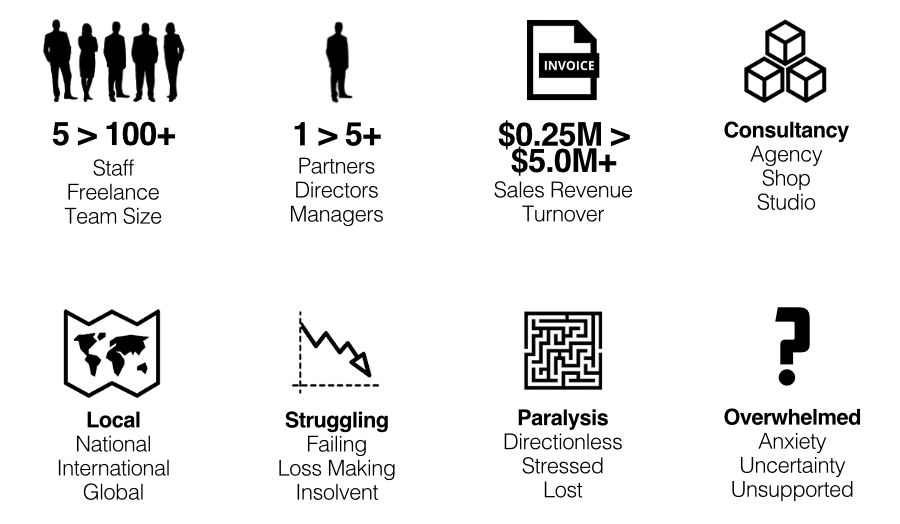 Stop haemorrhaging money due to economic conditions, poor sales and underfunded growth.
If you're business is struggling or worse failing, know exactly What to do, How and When to turn it around for good. Learn how to save, turnaround, and grow your business to restore positive cash flow no matter what state it's currently in.
Learn how you can quickly and easily rebuild and restructure your business without going bankrupt.
If you've ever wanted to ensure sustainable growth in your company without constantly struggling with the effects of a recession, downturn or unexpected change and you own or manage a small to medium (SME) sized consultancy or professional service business then read on.
I am going to show you how to dial in to your company in a way that will help you Reduce Debt, Manage Insolvency, Improve Cash Flow, Secure Financing, Develop Sustainable Growth, and Achieve Success despite the Economic Conditions, Recession or no recession.
You'll be more prepared to generate growth in your company without having to deal with hiring expensive consultants and spending precious cash flow on outside help, or worse still having to face downsizing and laying off your A-Team, your most valuable and hard-won employees, to make ends meet until the next payroll crisis hits your firm.

But before I do that, let me tell you a little about how I was able to finally overcome the financial challenges brought about by unexpected change, rapid growth, recession and economic downturn.
'Over the last 25 years I've been involved with the founding and running of over 5 international businesses operating in traditional and online markets. Establishing offices in 5 geographic regions including North America, the Middle East, and Europe along with running a team of up to 100 staff without any formal business training has been a challenge and not without its fair share of problems.' Richard Conner
I read somewhere once that apparently a born entrepreneur can make anything profitable. While that may be true I believe any type of entrepreneur, natural or nurtured, is equally capable of making anything unprofitable! This tendency is compounded exponentially when focusing on your goals, passions and the direction of your business take second place to continual day-to-day problem solving and relentless fire-fighting.
Over the years I have started businesses that generated healthy profits in a very short amount of time that developed quickly and grew organically into larger successful BUT seriously under-funded businesses. The very success that you are working towards (and in some cases achieving!) often becomes the cause of your frustrations as you strive to overcome persistent problems to develop and grow your business.
Before you know it and before you have a chance to be proactive, like a mad dog you are chasing your tail. The freedom, responsibility and control you would do anything to attain and maintain has become a huge weight on your shoulders that becomes harder and harder to shrug off.
The deeper your involvement and the more committed and loyal you are to your business and your team the more you realise you have unwittingly traded your regular pay check for a new boss; the bank, your investors, your creditors, your suppliers, your staff, your clients and your customers.
Your time and energy is hijacked by everything other than what you wanted to do and what your business is all about. In short you feel lost, trapped, unheard, and worst of all, unsupported.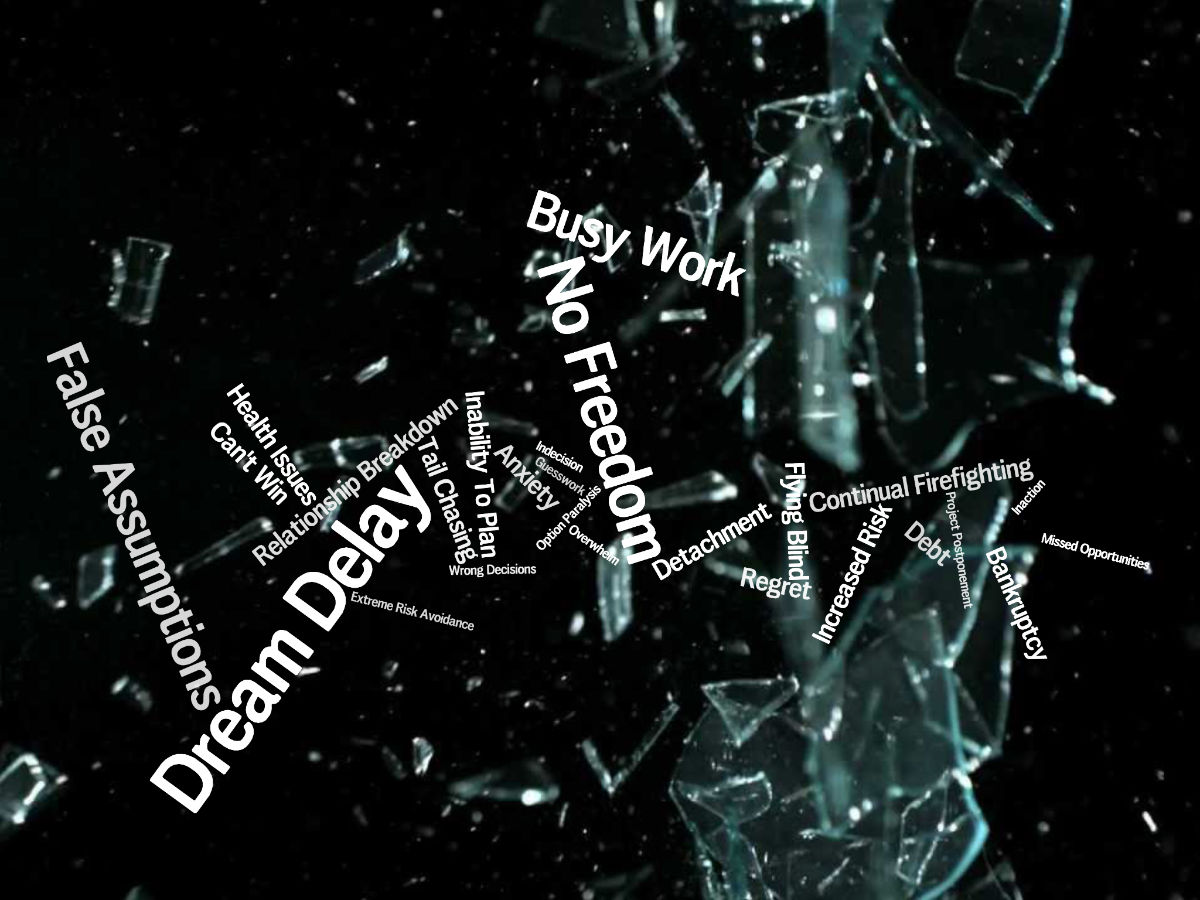 After nearly losing my first business because of these kinds of problems. I had to find a way to start again with a fresh perspective and approach.
To overcome these major issues I had to re-learn and adjust my management strategies at the same time as reduce mine and my businesses reliance on debt during my journey to stable, sustainable and profitable cash flow positive growth.
With severely restricted cash flow at times it seemed like there was no light at the end of the tunnel. But, I knew from experience that hard work eventually pays off. It took time but with help and support I was gradually able to bring my business finances under control and return to profit. During this process I learned some of the most valuable lessons about business.
I know first-hand that these are not the lessons you will learn in school, college or university while studying finance, business and management. These are the hard learned lessons of life and business that you only learn by experiencing them for yourself and coming out the other side stronger and street wiser.
I forgot Einstein's definition of insanity, i.e. doing the same thing over and over again and expecting different results.
While I restructured my businesses I decided it was time to pay detailed attention to what exactly I was doing, when and why. You see after 15+ years in business you start to take your knowledge and experience for granted. Operating on gut instinct, chancing it on nothing more than a wing and prayer I forgot Einstein's timeless words of wisdom. This time I wanted to record what I was doing and fully understand why something was working and why something wasn't to create a reliable blueprint and framework to turn a business around successfully.
To get through these difficult times my business partners and I pulled out all the stops to turnaround our businesses. Even with nearly 50 years experience between us, a large network of friends, colleagues, suppliers, advisors and clients it was a struggle to find out and understand what we needed to do to keep our businesses working and stop them struggling again in the future.
It seemed that nobody really knew what to do and when to avoid the inevitable business collapse that we were facing down. The professionals were busy looking after their own interests focussing on the fees they could weed out of the process, which just made it much harder to transition through a turnaround with anything like a soft landing.
However, after a lot of research and trial and error live in the field, I finally got to grips with the complex and seemingly never-ending process and began to boil it down into simple, straightforward and manageable tasks that me or my team could implement without breaking a sweat or becoming overwhelmed and stressed.
It wasn't long before the changes we did action quickly started to make a positive affect. We had more time, energy and resources to really start to focus on building the business and taking on new, exciting projects as oppose to always working endlessly to avoid failure and cauterise the wounds to stop the cash flow bleed we were living and dying by day in and day out.

We had more time to breathe and think. At last we were able to come up for air.
Why not share the knowledge of how to turnaround your business and end financial struggles and make it available to those that need it most?
Throughout the process I recorded everything I was doing, combined it with what I just know from experience works in business and pulled everything together into a clear complete and structured program to turnaround your business. I didn't want to waste the experience and knowledge but capture and organise the vast array of information, tools, tips and techniques for surviving a recession, managing insolvency, and building a strong sustainable business.
I wanted my current and future partners, directors, management team and staff to benefit directly. This way, with everyone onboard, including our investors, we would be able to further strengthen, grow, and expand our businesses.
After a series of drawn out personal and business insolvency processes and forcing myself to regularly and consistently make the time to document everything I developed this comprehensive program. It puts the tools for surviving a recession, market changes, growing pains and unexpected change into a single, simple, step-by-step how to solution that will make stabilising your company and getting out of debt much simpler than it ever was for my me and my partners. You'll receive all of this experience and more when you invest in My Business Survival™ Total Turnaround.
My Business Survival™ Total Turnaround will show you how to survive financial struggles and overcome the threat of having to close your business without having to go further into debilitating debt and stay in cash flow crisis.
We all experience the very same problems and difficulties from time to time and will likely continue to do so over the next few years whether we are new to business or have been struggling, and too often failing, to turnaround our existing enterprises.
Knowing where you can turn for advice and support that can really help you through the day-to-day running and overarching sustainable growth strategy of your business is essential. That's why I've developed this fast-access, holistic business course that not only deals with the current issues we are all facing but also includes a plan to help you avoid future problems to create a renewed business that delivers the rewards and freedom that you set out to achieve when you first set out on this, your entrepreneurial right of passage.
This isn't based on reading lots of books and re-presenting the same old business advice. It's drawn from real life experience of turning around my own businesses and the challenges I've faced over my career and especially the last few difficult lean years.
You'll get a 96 Lesson, 12 Module Business Turnaround Success Course including module summaries, action checklists, and cheatsheets all instantly available. You don't have to rush to business school and pay high fees for information that is not useful to your immediate need or hire expensive consultants that will charge you an arm and a leg to tell you what you already know.
Applicable strategies, advice and support to help you get your business on the right track are available now. This extensive blueprint documents and systemises how you can, starting now, carry out a successful business turnaround and prevent one from being needed again in the future.